St Patrick's Day Bar Crawl: The Five Saints Crawl
Get Tickets Now
*ATTENTION: PRICES GO UP AS DEMAND GOES UP*
It's this time of the year again. You know where no matter where you come from or who you are, we are all IRISH for one day. That's right Chicagoans, wear your favorite St Paddy's shirt, pants, hats, ties, and join the rest of the city as we party it up.
The Irish god's have shown mercy and St. Pat's happens to land on a weekend this year which means that we at Meet People Chicago, Chicago's largest social group, have a full lineup of St Paddy's events for you.
What do we mean you ask?
How about 5 MASSIVE but SUPER FUN bar crawls?! That's right, welcome to The Five Saints Crawl. We have 5 bar crawls in 5 Chicago neighborhoods with over 1000 people. All you have to do is pick the neighborhood and the bar crawl you and your friends wish to go.
But WAIT! This is St Patrick's Day. HUNDREDS of us are all going to converge into one HUGE St Patrick's Day after-party at the end of the night! But you are only invited to this amazing green sea of a party if you attend one of the neighborhood bar crawls OR if you prefer, just get the ticket for the final party. Below are details of each neighborhood crawl. Each one is unique and different. It's up to you to decide which crawl you think is right for you.
Plus at each of our bar crawls we will have fun games and prizes! What are those? How about:
1. Prize for the most "sober" person! The winner gets two drinks of his or her choice (or $25 food)!
2. Prize for the most "Spirited Irishman or woman!" The winner gets a bottle of Jameson Irish Whiskey!
So pick your Chicago St Pats Neighborhood Bar Crawl or the final party and join the rest of Chicago in this incredible day!
St Patrick's Day River North Bar Crawl
The Chicago River is green, the air is crisp and it smells like a city drinking since the early morning. Yup, its St. Patricks Day AKA one of Chicago's BIGGEST party weekends of the year! Join us and the rest of Chicago for our St. Patrick's Day River North Bar Crawl. We'll be hopping around downtown hitting 4 of the best bars of River North at the heart of all the action. Along with over 100 other people having a great time, you'll get to see the world's famous Chicago River dyed emerald green, a Chicago tradition, as we walk over the bridge on our crawl.
We have a morning crawl at 8:00 AM - 2:00 PM for you early risers and an afternoon crawl at 3:30 PM - 9 PM as well. We'll start south of the bridge and working our way north so you can see all of Chicago on St. Pats Day. Along with some great people and great times, you'll also receive drink specials at each venue!
So cross over the green river, explore downtown Chicago with your friends like never before and have some fun on St. Pats Day as we party it up! Grab your tickets before they go up in price or sell out!
River North participating bars will be listed soon
St Patrick's Day Division Street Bar Crawl
If you have ever been to a MPC bar crawl, you know that a Division Street Bar Crawl is one of the crowd favorite bar crawls. We have done five of these in the last 4 years and have a funny feeling this one is going to be the biggest one yet!
Join HUNDREDS of St Paddy revelers on the most fun street in Chicago: Division Street. Division Street borders the booming neighborhoods of Wicker Park and Ukrainian Village. We'll start near Damen Avenue and end dancing the night away at our last stop. This is one bar crawl you won't get lost on no matter how drunk you are!
Division Street participating bars will be listed soon
St Patrick's Day Wicker Park Bar Crawl
Meet People Chicago is bringing you Wicker Park's only St Patrick's Day bar crawl! Join 100 fun guys and gals as we take over Wicker Park, where cool started before it got trendy. The Wicker Park Bar Crawl will visit 4 bars in 5+ hours, 100 people and of course, drink specials!
The bar crawl starts at 3 PM at the six corners: Milwaukee, Damen and North Avenue. From this initial sea of green madness we will move south east along Milwaukee Avenue hitting bars along the way and possibly leaving a trail of green beer behind us. You definitely won't get lost on this one, just follow the trail!
Wicker Park participating bars will be listed soon
St Patrick's Day Logan Square Bar Crawl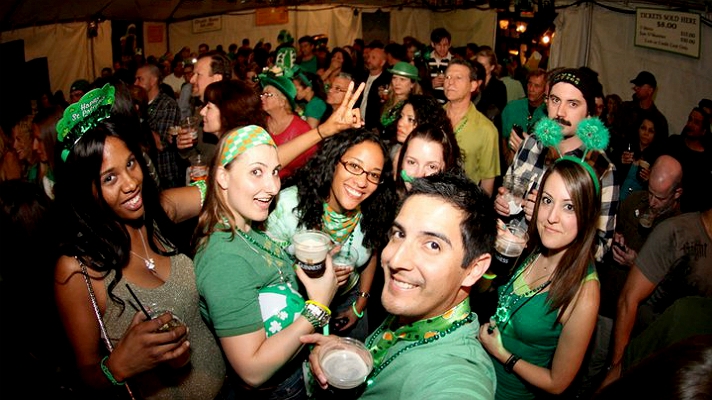 Tear up Milwaukee Avenue with your friends and a hundred others in hipster Logan Square. Logan Square will still be crowded but without the craziness of River North or Wrigleyville. We'll be hitting 4 bars for 1 hour each all along Milwaukee Avenue. Bars like The Owl, Chicago Distillery Company, Logan Bar and Grill and The Rocking Horse. All these bars are super fun and unique in character. Logan Square may be the new kid in town but it sure knows how to party. Join your neighbors, friends and cool strangers as we celebrate St Paddy's Day right in Logan Square!
Logan Square participating bars will be listed soon
St Patrick's Day Lincoln Park Bar Crawl
Hit the best bars in Lincoln Park as we crawl the neighborhood that started all the fun in Chicago! Before Logan Square, Wicker Park, River North, even Wrigleyville, there was Lincoln Park! And with the DePaul college crowd and young professionals, Lincoln Park will be one of the hottest party spots for St Patrick's Day!
Lincoln Park participating bars will be listed soon
Each Five Saints Crawl Ticket Includes:
Entry to one neighborhood bar crawl

Invitation to The Five Saints Crawl after-party

1 drink ticket at The Five Saints Crawl after-party

Drink specials at participating bars

Participate in the "most sober" and the "most spirited Irishman or woman" contest
BAR SCHEDULE: Will be emailed out night before the event
WRISTBANDS: You MUST wear your wristband during the crawl! Entry into venues immediately is not guaranteed, there may be a wait.
*ADDITIONAL IMPORTANT DETAILS*
*All guests must be 21 and older with Government ID*
*Bar schedule will be emailed to ticketholders the night before the event*
*All ticket sales are final and non-refundable*
*Entry into venues immediately is not guaranteed, there may be a wait*
Be a member for just $9.99 a month and you can go to this amazing event and all general events for no additional charge! Go here for more details.
Event Properties
| | |
| --- | --- |
| Event Date | 03/16/2019 8:00 am |
| Event End Date | 03/16/2019 8:00 pm |
| Ticket Price | Free |
| Location | Chicago |
Ticket Information
Ticket Type
Price
Early Bird - The Five Saints Crawl - River North Morning St Paddy's Crawl

Ticket includes entry to participating bars, invitation to after party with 1 drink ticket, chance to win crawl contest

$15.00
Early Bird - The Five Saints Crawl - River North Afternoon St Paddy's Crawl

Ticket includes entry to participating bars, invitation to after party with 1 drink ticket, chance to win crawl contest

$15.00
Early Bird - The Five Saints Crawl - Division Street Afternoon St Paddy's Crawl

Ticket includes entry to participating bars, invitation to after party with 1 drink ticket, chance to win crawl contest

$15.00
Early Bird - The Five Saints Crawl - Logan Square Afternoon St Paddy's Crawl

Ticket includes entry to participating bars, invitation to after party with 1 drink ticket, chance to win crawl contest

$15.00
Early Bird - The Five Saints Crawl - Lincoln Park Afternoon St Paddy's Crawl

Ticket includes entry to participating bars, invitation to after party with 1 drink ticket, chance to win crawl contest

$15.00
Other Upcoming Events